Quick and professional repair and maintenance of your construction machines and construction equipment.
Need a repair in a hurry? Does your construction machine need maintenance? You are exactly in the right place with us. We will maintain your construction machines and construction equipment regularly and be at your side quickly in urgent cases. Either in our numerous branches or, if required, directly on site on your construction site.
Your advantages:
Consistently high quality: our service technicians undergo first-class training and qualification in the Wacker Neuson Academy.
Special work professionally carried out: save on your own technicians or special tools for special work.
Costs under control: you decide whether a full repair or one oriented to the current value of the equipment should be performed.
Original spare parts: your machine will last you a long time, as we exclusively use original spare parts.
WeCare
Choose one of our WeCare packages and you always have an overview of costs. With our Basic, Basic Plus or Premium packages, there are no surprises. You know exactly what costs you are facing and that maintenance is in the hands of experts.
Tip: if you purchase a Wacker Neuson product using our financial solutions, you can also finance the monthly service installment directly and with full convenience.
Collection and return service
A call to a Wacker Neuson location in your area is enough to have our practical collection and return service organize the proper transport of your machine. We get your machine back into shape at our branch and then bring it directly to the next job site. You can choose the return transport destination depending on your requirements.
Manufacturer warranty WN36
When you purchase a construction machine or construction equipment from Wacker Neuson GmbH, you receive a 36-month or up to 3,000 operating hours manufacturer's warranty WN36*. The warranty services include the elimination of all material defects that are detected on your equipment during the running times
Your advantages at a glance:
Your investment enjoys exclusive protection against unexpected quality defects and this directly from the producer of the products
As a manufacturer, we guarantee courteous and prompt service in handling your claims
Our 10 branches in Austria are a guarantee for a quick and uncomplicated access to our company
The manufacturer's warranty WN36 is bound to your device and therefore also transferable to third parties
Manufacturer warranty 3plus
The Wacker Neuson Manufacturer's Warranty 3plus** includes all the benefits of the Wacker Neuson Manufacturer's Warranty WN36. By concluding a WeCare maintenance agreement, you additionally benefit from the following added values:
Your additional advantages
Extension of the manufacturer's warranty by a further 24 months*
Professional maintenance and repair with original spare parts and tested quality lubricants according to manufacturer's specifications by our specialists
Free inspection and updates in the course of maintenance work
Any repairs can be carried out at the same time at low cost. No need to travel again
EquipCare* included - The telematics solution from Wacker Neuson. We contact you in an uncomplicated and timely manner before the next maintenance**
§11 AM-VO for self-propelled work equipment
Top maintained machine in best condition at the end of the agreed term and thus increase of the resale value
Mobile service
Our mobile service technicians come without ifs, ands or buts. If you can't bring a machine to our workshop, our technician will come to you. Our employees have with them all the tools and a variety of spare parts necessary for a quick repair. Thus, even minor damages in particular do not result in long downtimes.
Electric machine repair
No electrician of your own on your team? No problem. We offer professional maintenance and repair of electric-powered equipment and machines. You and your employees will always be on the safe side with Wacker Neuson.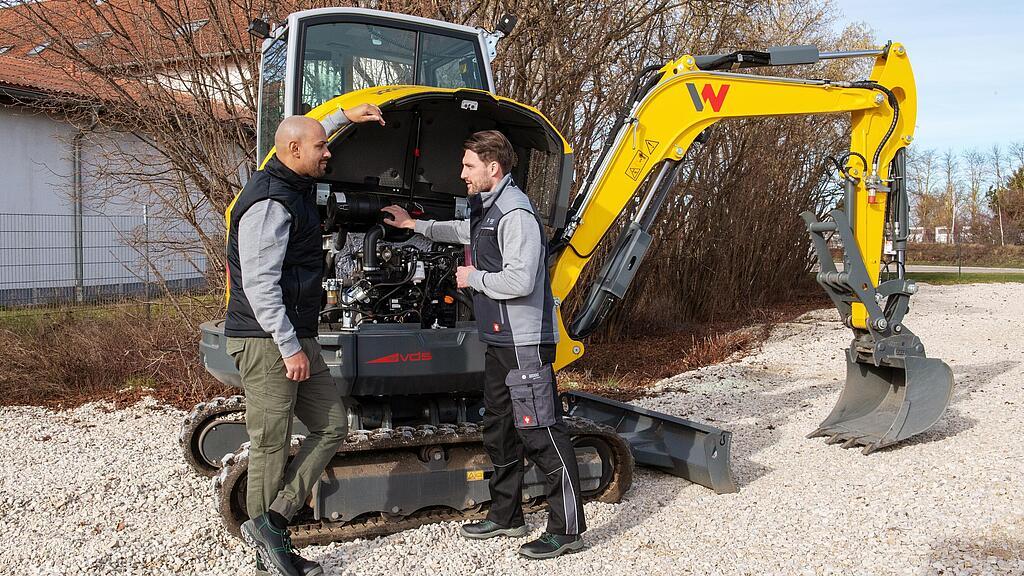 Machine checks
Regularly carried out machine checks ensure the trouble-free function of your Wacker Neuson product. You can get these kinds of checks free at our service locations. Just bring your equipment over. We're happy to also organize transport with our collection and return service.
* Wacker Neuson Manufacturer's Warranty WN36 valid from an equipment sales value of 1.500€ net. We refer to our warranty conditions for the manufacturer warranty WN36 and 3plus on our homepage.
** Requires an order processing agreement (AVV) to be signed once for your company.